Jalapeno Corer
Remove chili core and seeds in seconds. If you love grilling or stuffing chillies, make the chore of coring out the peppers easier with this handy new jalapeno corer. Just insert and twist, and the tools serrated sides separate the...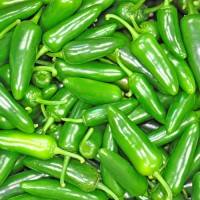 Fresh Green Jalapeno Chillies 1000g
Crunchy, freshly harvested and tasty. The jalapeño chili is one of most widely cultivated chili varieties in the world and is very popular in Mexico and the USA. Green jalapeño chillies are harvested whilst still unripe,...
Fresh Red Habanero Chillies 1000g
Fresh red habanero chillies - freshly harvested, crunchy, and extremely hot. The fresh peppers have thin but juicy outer walls and have a fruity aromatic flavour. Some compare the aroma of fresh peaches or apricots. You can smell their...