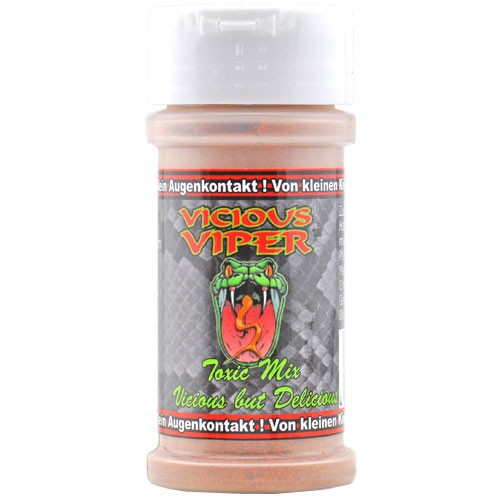 Content:
50 Gramm (€15.98 * / 100 Gramm)
Prices incl. VAT plus shipping costs
Immediately ready for shipping. Delivery time: 1-3 business days.
Order number:

7901

Chili spiciness:

10

Extremely hot
Verwendungs-
vorschlag:

A perfect hot condiment for the dinner table

Warning regarding spiciness:

Keep out of reach of children and people with a spice intolerance
Vicious Viper Toxic Mix powder is in a class of its own! Full of flavour and a tangy heat. The...
more
Vicious Viper Toxic Mix
Vicious Viper Toxic Mix powder is in a class of its own! Full of flavour and a tangy heat.
The incomparable heat of the Vicious Viper Toxic Mix comes from two of the hottest chilies in the world, the bih jolokia and habanero red savina. The flavour is rounded off nicely with two chili varieties that are bursting with flavour, the cayenne pepper and the caribe chili.
The Vicious Viper Toxic Mix is "vicious but delicious". At first the taste is reminiscent of sun-ripened chillies, slowly unfolding accompanied by an incredibly spicy heat. Then, there is only heat. After a few seconds the individual spices assert themselves, developing their full flavour by the end. It takes quite some time before the sensation of heat gradually starts to fade, bringing a smile to your lips.
Try the Vicious Viper Toxic Mix with any meal, there are no limits to where it can be used!


Shelf Life / Storage
The expiry date printed on the product refers to an unopened product in unrefrigerated storage. After opening, the product can be kept for at least 3 months if stored below 7°C.
Red savina habanero chili, bih jolokia chili, cayenne chili, black pepper, chili caribe, garlic...
more
Ingredients*
Red savina habanero chili, bih jolokia chili, cayenne chili, black pepper, chili caribe, garlic and spice blend.
Manufacturer
Manufacturer
Manufacturer
Address:
Holzweg 16
67098 Bad D&uumlrkheim
Deutschland
Read, write and discuss reviews...
more
Customer evaluation for "Vicious Viper Toxic Mix"
From:
Kryophilos
On:
20 Sep 2019
Sehr lecker, aber kein Vipernbiss
Schließe mich den anderen Meinungen an: sehr leckere Mischung, die ich besonders zu Gebratenem und Gegrilltem gern nehme, aber von der Schärfe sicher keine 10; da ist schon das Piquin-Pulver deutlich schärfer. Also: ausreichende Menge kaufen ;-)
From:
Der Werner
On:
21 Sep 2017
Die bessere Viper
Während die Vicious Viper Sauce, mit ihrem leicht fauligen Extraktgeschmack
eher nichts für mich ist, konnte mich der Toxic Mix vom ersten Moment begeistern (hoffentlich gibt's den noch lange hier). Kräftiger, vollmundiger Chiligeschmack mit leichten Raucharoma. Passt eigentlich zu allem, wo man Gewürze draufstreuen kann; ist aber der absolute King auf Döner. Sollte man als Chili-Fan zuhause haben.
From:
Niclas O.
On:
2 Jun 2016
Geschmacklich top, schärfe flop
Geschmacklich ein wirklich super gutes Pulver. Schmeckt wunderbar. Aber es ist halt bei weitem keine 10 wie hier angegeben. Selbst eine 5 halte ich für zu hoch angesetzt.
Klar, das Pulver ist pur schon etwas schärfer, aber es verliert seine schärfe fast gänzlich wenn man es nicht pur isst.
From:
Oktay C.
On:
16 Apr 2016
Gut, allerdings nicht extrem
Als Pommes Gewürz und alternative Würze eine feine und pikante Sache und durchaus empfehlenswert. Ich werde es erneut erstehen, da man es vielseitig einsetzen kann und für meinen Geschmack die richtige Schörfe hat. Allerdings beträgt die Schärfe keine 10/10, was man vor dem Erwerb wissen sollte. Probiert es selbst.
From:
Björn Vetter
On:
11 Jan 2016
Geschmacklich gut
Geschmacklich ist es wirklich sehr gut.
Jedoch ist die Schärfe mit 10 deutlich zu hoch angesetzt.
Würde sie eher zwischen 5-7 einordnen
From:
Karl Hansen
On:
20 May 2015
Very practical with perfect taste
Very useful spice, easy to add to whatever you're eating or cooking to spice things up A LOT. A perfect compliment to dishes or quick meals where you may find it difficult to dose and distribute a hot sauce. A must in all chili-lovers kitchen and jacket pocket ;)
Write an evaluation
Evaluations will be activated after verification.
Rezepte, Infos und Produkte
Themes