Pizza Flour 00
Our Italian pizza flour 00 is a special soft wheat flour from Venice which is suitable for making delicious, thin and very crispy pizzas. The dough is extremely elasticated, so it should be made the day before. The high proportion of...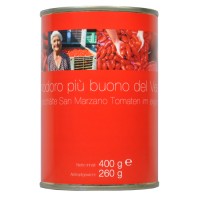 Whole, peeled San Marzano tomatoes
Just a few years ago they were facing extinction – barely anyone still grew the San Marzano tomato variety. It has since experienced a renaissance and is once again thriving in the fertile soil at the foot of Mount Vesuvius, not...
Content
0.26 Kilogramm
(€9.19 * / 1 Kilogramm)