No results were found for the filter!
1
Buffalo Blue Cheese Wing Sauce
A hot and spicy chicken wing sauce, enriched with a strong blue cheese. A wonderful flavour with a mild hint of spice is what makes #218 Buffalo Blue Cheese the perfect family chicken wing sauce. If you prefer things to be a bit...
Content
0.382 Kilogramm
(€26.15 * / 1 Kilogramm)
3
Tobago Keys Coral Ridge Seafood Sauce
With a creamy flavour, a hint of mustard and white wine, the barest kick of habanero and cayenne, this mildly spicy sauce is more versatile than the label suggests. It is definitely a fantastic complement to seafood, grilled or fried,...
Content
0.355 liter
(€22.51 * / 1 liter)
6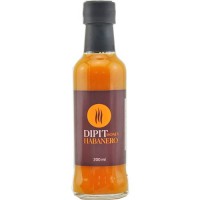 DIPit Honey Habanero Hot Sauce
DIPit Honey Habanero Hot Sauce: If you enjoy freshly picked hot peppers, and a sweet aroma of honey, then this is the sauce for you. It goes really well with poultry and in salads. Heat level: 3/5
Content
0.2 liter
(€34.95 * / 1 liter)