Products from Lee Kum Kee (Europe)
No results were found for the filter!
Mushrooms Vegetarian Stir-Fry Sauce
The vegetarian seasoning sauce with mushrooms was specially developed for vegetarian and vegan dishes. It is an alternative to oyster sauce, has a similar texture and also gives dishes a comparable flavor to the proven oyster sauce....
Content
0.51 Kilogramm
(€7.82 * / 1 Kilogramm)
2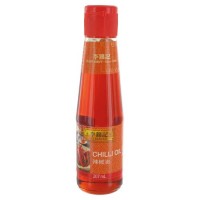 Chilli Oil
For friends of Asian food, the chilli oil from Lee Kum Kee is an absolute must. Aromatic chilli oil with a slight heat in the finish. Made only from soybean oil and dried ripe chilli peppers - you can taste it. (Those who know the...
Content
0.207 liter
(€18.31 * / 1 liter)
Hoisin Sauce
The sweet and spicy, dark hoisin sauce is a classic from Chinese, or more precisely Cantonese and also Vietnamese cuisine. It is made from fermented soybeans, sugar, garlic and Chinese spices and is mainly used with meat. For...
Content
0.397 Kilogramm
(€9.29 * / 1 Kilogramm)