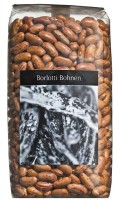 Borlotti Beans
Borlotti beans originally come from South America and have become a classic of Italian cuisine. The pretty brown marbled beans turn to dark red when cooking and have a delicate nutty flavour. They are an important ingredient of...
Content
0.4 Kilogramm
(€11.75 * / 1 Kilogramm)
Cannellini Beans
Small white beans, of soft consistency. Classic as a salad, as a accompaniment to meat or for hearty Tuscan stews. Soak for 12 hours, then boil for 1 hour.
Content
0.4 Kilogramm
(€13.00 * / 1 Kilogramm)