Camargue Red Rice
This maroon-red coloured rice is a specialty from the Camargue and gets its colour through the clay-rich soil on which it grows. It is untreated and unpeeled, so it retains its reddish-brown colour, the inner grain is white. It has...
Content
0.4 Kilogramm
(€16.25 * / 1 Kilogramm)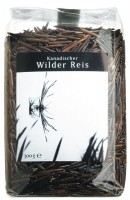 Canadian Wild Rice
Wonderful wild rice from Canada. This wild rice is related to the traditional rice (sweet grass) and grows in the waterfront at Canadian ponds. It is usually mixed with other rice varieties. The extra long grains are delicate and...
Content
0.3 Kilogramm
(€51.67 * / 1 Kilogramm)