Products from Pepper King
8
Pepper King Habanero Popcorn
Extremely spicy and delicious! That`s the new product Pepper-King Popcorn . For those, who love to snack and to eat extremely hot. The Pepper-King Popcorn in the right packaging design is characterized by the unique Chili-Taste.
Content
90 Gramm
(€2.54 * / 100 Gramm)
8
Pepper King Habanero Chips
Warning - you really can get hooked on these crisps! Crunchy, hot and with full Habanero flavour. Pepper King Habanero Chips are slightly thicker than normal potato crisps and have a very crunchy texture. They are spicy with a very...
Content
125 Gramm
(€1.91 * / 100 Gramm)
3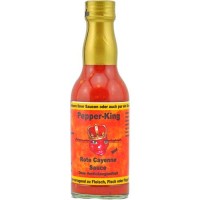 Pepper King Red Cayenne Sauce
Like the Lemon Drop sauce, Red Cayenne sauce is also made without the use of any thickening agent, thereby giving it a particularly intense flavour. A little fresh garlic, ginger and a slight hint of acidity round out the flavour of...
Content
200 ml
(€3.50 * / 100 ml)