Products from Pepper King
No results were found for the filter!
2
Pepper King Habanero Tortilla Chips
Pepper King`s hot range has grown: The Pepper King Habañero Tortilla Chips complement the Pepper King range with kettle chips and popcorn. The tortilla chips are made with natural sunflower oil and without any colourings &...
Content
0.175 Kilogramm
(€14.23 * / 1 Kilogramm)
6
Pepper King Habanero Dip
For lovers of hot taste! Matching the Pepper-King Habañero tortilla chips, we offer the extra hot Pepper-King Habanero dip. Because tacos and dips simply belong together! Just like the existing Pepper King articles, this...
Content
0.235 liter
(€10.60 * / 1 liter)
8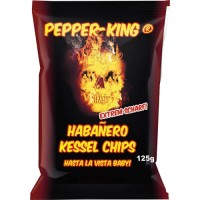 Pepper King Habanero Chips
Warning - you really can get hooked on these crisps! Crunchy, hot and with full Habanero flavour. Pepper King Habanero Chips are slightly thicker than normal potato crisps and have a very crunchy texture. They are spicy with a very...
Content
0.125 Kilogramm
(€22.32 * / 1 Kilogramm)