Social projects
Orphanage in Kathmandu - Nepal
Chili Food supports an orphanage in Kathmandu, Nepal, where 60 children live. Help us help them!
Donate now: Project page on the charitable donation platform Betterplace.org (Donation receipts are provided)
Nepal is one of the poorest countries in the world. Just outside of Kathmandu live 60 children who have lost their parents or who come from extremely poor families. This children's home with its 5 employees give these children a loving home, food, clothes, time to play, education and therefore a future with the simple means they can provide. Particularly interesting is that the carers live in the house with the children, like one big family. The Nepalese government only participates in the costs very irregularly, and thus the orphanage relies on private help. This help comes exclusively from private people in Germany and Europe. The Lions Club Bad Dürkheim agreed to sponsor the project, to ensure that the donations are tax deductible. The non-profit organisation the Lions Club sends 100% of the donations to the project for us.
A day in the orphanage in Kathmandu, Nepal - January 2013
What do we want to achieve with our appeal for donations?
Our guiding principle: Helping people help themselves - because we want to give disadvantaged people the opportunity to sustainably improve their situation themselves.
Chili Food supports each project with a donation of 1000 Euro and collects further donations via the charitable donation platform www.betterplace.org 100% of which go the project. Donation receipts are issued by Betterplace and are tax deductible. Transparency and open communication are the focus for us. We try to describe the situation and the needed help in as much detail as possible. Every small donation is very valuable for the people in the situation, and you have the right to find out what is happening with your money.
What is required ?
Preface: Complete transparency is important to us. Every donated Euro is relevant and is documented by the orphanage with invoice documents. We will provide as much information as possible on our site all donations used.
1. Vegetable garden project: 10000 Euro
Usage: The vegetable garden is to be increased to at least 4000m2 in order to be able to grow more vegetables. The vegetables not needed for the children will be sold at the market to finance other activities of the orphanage. This project is extremely successful and should secure the independence of the orphanage from donations.
2. Education: 3000 Euro
Usage: The orphanage requires 4 more teachers and work materials to improve the children's education. A teacher earns only 65 Euro per month. Education corresponds to the basic idea of our aid effort "Helping people to help themselves".
3. Food: 4000 Euro
Usage: The children receive 2 hot meals a day, which mainly consist of rice and pulses. The children are lacking in high-quality proteins and fats. For 165 Euro per month, every child can receive one egg or one cup (165ml) of cows milk each day. With 4000 Euro, the children's nutrition can be significantly improved for 1 year.
4. Clothes: 3000 Euro
Usage: Twice a year, the children receive shoes, sports shoes, sandals, school clothes and a small amount of basic clothes (Jacket, Pullover, Trousers, T-shirt, socks, underwear).
5. Health: 3500 Euro
Usage: A bi-annual health check shall be introduced, as many children suffer unnoticed hidden illnesses. The initial cost is 400 Euro, the doctors and nurses inc. materials cost 900 per year. The remaining 2200 Euro is required for a contingency reserve for cases of acute illness.
6. Volunteers
Volunteers can visit and work in the orphanage at any time. In particular, volunteers with educational and agricultural knowledge are required. Contact us: https://www.chili-shop24.de/kontaktformular
The situation in the orphanage in Kathmandu
The monthly costs are detailed below, so you can get an idea of the financial situation of the orphanage.
Monthly consumption according to the market price in August 2014
Demand
Quantity
Price per unit
Total
Comment

Rice

1050 kg

0,40 €

420,00 €

Black Lentils

50 kg

0,92 €

46,00 €

Cooking oil

20 litres

1,11 €

22,20 €

Sugar

10 kg

0,66 €

6,60 €

Flour

30 kg

0,51 €

15,30 €

Dried beans

20 kg

0,94 €

18,80 €

Vegetables

450,00 €

Previously, 15 Euro per day had to be spent on buying vegetables, but due to the orphanage's own vegetable garden for the most part this is no longer a necessary expense

Fruit

20 kg

0,78 €

15,60 €

4x a month each child receives 80g of fruit

Biscuits

3 Packs

9,37 €

28,11 €

1 pack = 120 small packs

Milk

50 litres

0,55 €

27,50 €

5x a month each child receives a small cup of 165ml


Eggs

300 eggs

0,09 €

27,00 €

5x a month each child receives one egg

Meat

32 kg

2,89 €

92,48 €

4x a month each child receives 130g of meat

Bread

35 packs

0,62 €

21,70 €

5x a month each child receives some bread

Salt

€ 0.16

€ 0.80

Spices

€ 15.63

Matches

1 pack

€ 1.29

€ 1.29

Detergent

5 kg

€ 0.35

€ 1.75

Cleaning agent

2 packs

€ 1.88

€ 3.76

Kitchen washing-up liquid

1 pack

€ 3.91 €

€ 3.91 €

Bathroom soap

24 pieces

€ 0.20 €

€ 4.80 €

Gas

6 bottles

€ 11.48

€ 68.88

Wages

Management

per month

€ 78.12

€ 78.12

Management

per month

€ 62.50

€ 62.50

Supervisor

per month

€ 62.50

€ 62.50

Teacher

per month

€ 65.00

€ 65.00 €

Only mornings + evenings

Teacher

per month

€ 65.00

€ 65.00 €

Only mornings + evenings

Clothing/shoes

2 x per year

As per market price

Total
€ 1,625.23
The Vegetable Garden Project: Helping others to help themselves
In early 2014, a private relief fund belonging to the staff at the European Parliament allocated 6,000 euro for building a vegetable garden. Here, it should be pointed out that there is currently a major food shortage in Nepal and that some foodstuffs such as vegetables and the like are relatively expensive. The 6,000 euro helped to pay for the 5 year lease of a 2,000m² plot of land adjacent to the orphanage and to employ 2 women to take care of farming and harvesting. Simple means such as wooden rods and strong plastic sheeting were used to build several greenhouses, in which numerous different kinds of vegetables are now being grown. For more than four months (as of 1st September 2014), the orphanage has produced enough of its own vegetables, all of which are untreated, freshly harvested and very healthy, to meet its needs. Surplus vegetables are sold at the market, which helps make a contribution towards the monthly costs. As you can see, by helping others to help themselves, the orphanage can take another step towards becoming financially independent. We would like to extend our call for donations for the Vegetable Garden project, so that this strategy for success can become even larger, more efficient and more profitable. Little by little it will thus be possible to guarantee better nourishment for the 60 children and all with their own resources. At the same time, we would also like to improve the supply of specific foods such as milk, fruit and similar. Toys, clothing, musical instruments and school books will also be purchased, putting in place positive conditions for a happy childhood and good chances in later life. A lot can be achieved with just small donations – just one single euro can help these children on their way to a bright future.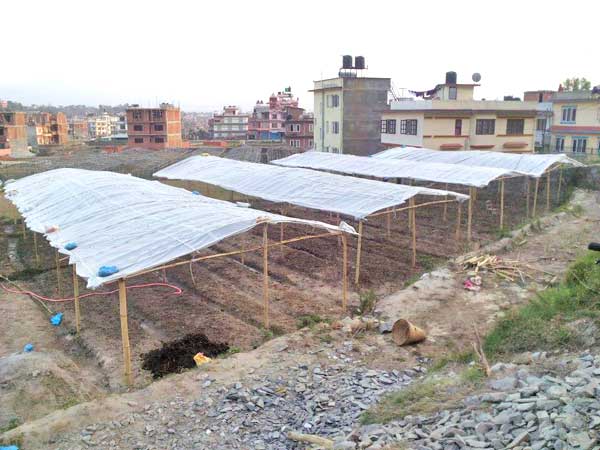 The greenhouses are being build and are adjacent to the orphanage (early 2014)
With help from seed donations from Germany and Europe, a wide variety of different vegetables can be grown
The vegetables are harvested daily for the children and any excess is sold at the market
A small school is being set up right next to the orphanage. The orphanage pays the teachers.
Beaming children in the paddy field in front of the orphanage