10+
Dave`s Ultimate Insanity Sauce
Ultimate Insanity is one of the hottest sauces made by Dave`s Gourmet Food. It offers a heat experience that is even hotter than Insanity - though, it doesn`t back down in flavour. Hot Red Savina Habaneros and pepper extract will...
Content
148 ml
(€6.72 * / 100 ml)
10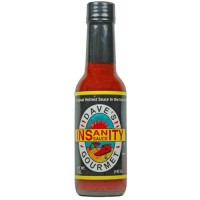 Dave`s Original Insanity Sauce
Dave`s breakthrough blend of peppers and spices launched the super hot market and forever changed the face of fiery foods. Its only sauce ever banned from the National Fiery Foods Show. Chillies and pepper extract ensure the heat...
Content
148 ml
(€5.37 * / 100 ml)
8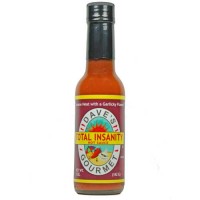 Dave`s Total Insanity Sauce
At first taste, Dave`s Total Insanity Sauce has a very aromatic flavour with an enjoyable taste of garlic with a hot and spicy aftertaste that is not to be underestimated. In spite of the relatively low Scoville rating of 48,000 SHU,...
Content
148 ml
(€5.37 * / 100 ml)