No results were found for the filter!
8
Whole Dried Jinta Chillies 25kg
The Jinta chilli is a typical Chinese chile variety. The chillies are approx. 10-14 cm long and have a dark red colour. They are so intensely coloured that a deep red chilli oil can be made from them, which is very popular in Chinese...
Content
25 Kilogramm
(€15.00 * / 1 Kilogramm)
6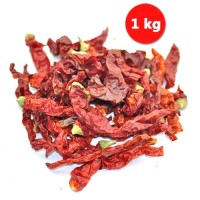 Whole Dried Xian Chillies
he Xian Horn Chili is the variety used in most Chinese restaurants. Xian (pronounced: chi:an) is originally a Cayenne chili, but unlike its cousins from India or Thailand, this special breed is sweeter in taste and less spicy. The...
6
Whole Dried Sichuan Facing Heaven Chillies
Sichuan Facing Heaven Chili is the classic chili for Chinese cuisine. It is mainly use whole dried in the hot and spicy Western Chinese Sichuan cuisine. The Sichuan cuisine is the only kitchen that combines all pepper-like spices...