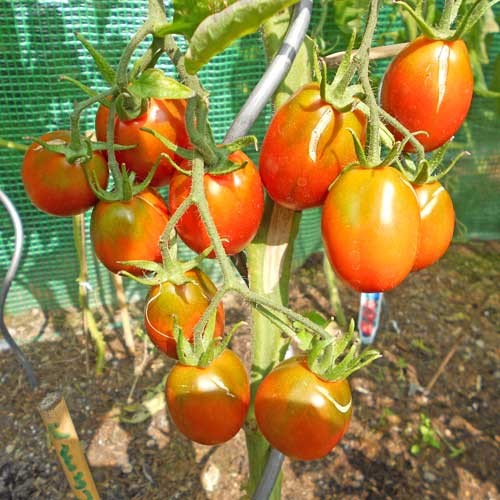 This product is currently not available.
Please inform me as soon as the product is available again.
Content:
10 Stück (€0.20 * / 1 Stück)
Prices incl. VAT plus shipping costs
Delivery time approx. 5 working days
Information: The Russian black plum tomato is very resistant to rot and blight, making it very...
more
Black Plum Tomato Seeds
Information: The Russian black plum tomato is very resistant to rot and blight, making it very well-suited for garden cultivation in our climate. The fruits are egg-shaped and turn reddish brown to almost black - the hotter the temperature, the darker the colour. The olive brown coloured flesh is firm, juicy and sweet and can be put to great effect in tomato sauces.
The plants can become very large and sturdy with an ample harvest, which usually lasts all the way until October. From late August onwards, you should remove any flowers still on the plant, so that more energy is directed into the fruits that have already started growing.
Care: You can grow black plum tomatoes at home, in a greenhouse or outside. Optimum germinating temperature is between 20°C and 28°C, germination takes place after 6-15 days. You can accelerate germination by priming them overnight in a damp cloth. The young plant should not be planted outside until after the last frost. Tomatoes need fresh, well-fertilised permeable soil, which is kept damp (but not wet!). They should be placed in a sunny, sheltered place with at least 6 hours of sunlight per day, if not more. You should make sure that there is sufficient space between each plant (80cm) when planting the black plum tomatoes out in your garden. This variety also needs sufficiently damp soil, if it dries out, growth will be inhibited.
| | |
| --- | --- |
| Variety | Black Plum Tomato |
| Contents | 10 seeds |
| Optimum germinating temperature | 20 - 26 °C |
| Seeding | February - April |
| Germination period | 6 - 15 days |
| Plant growth habit | 1.5 - 2 metres tall, stake tomato, very resistant to blight |
| Fruit`s appearance | Brownish red, olive to black, oval, medium-sized |
| Flavour | Fruity, aromatic sweet |
| Harvest | Late July to Late October |
| Origin | Russia |
Read, write and discuss reviews...
more
Customer evaluation for "Black Plum Tomato Seeds"
Write an evaluation
Evaluations will be activated after verification.