Rezepte, Infos und Produkte
10+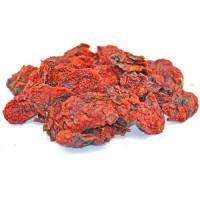 Whole Dried Trinidad Scorpion Butch T. Chillies
The Trinidad Scorpion Butch Taylor comes from an Australian Farm and entered the Guinness Book of Records in 2011 as the "Hottest Chili in the World". It was found to have an average of 1,463,700 SHU, after it has been overtaken by the...
Content
30 Gramm
(€14.97 * / 100 Gramm)
Organic Chili Fertiliser
For healthy and strong chili plants. Our Organic Chili Fertiliser is a compound fertiliser that ensures the optimum supply of nutrient for chili plants. This brand new development has led to the creation of the first organic...
Content
0.5 liter
(€15.90 * / 1 liter)
Themes