No results were found for the filter!
6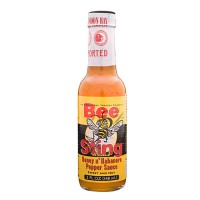 Bee Sting Honey n` Habanero
Honey & Habanero - an unbeatable combi. The Bee Sting Honey n`Habanero Chili sauce is a sweet Asian style sauce with a sweet and fruity, slightly flowery flavour, followed by a subtle heat. The honey comes from the rainforest of Costa...
Content
0.148 liter
(€40.47 * / 1 liter)
5
Bee Sting Pineapple Guava Pepper Sauce
If you like a fruity and exotic flavour, then you must try this little medium-hot masterpiece of pineapple, guava, cloves and ripe red jalapeños with a splash of rainforest honey. This extraordinary combination from Costa Rica...
Content
0.148 liter
(€40.47 * / 1 liter)
4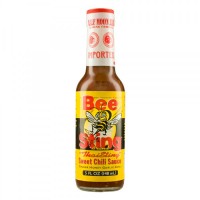 Bee Sting "Thai Sting" Sweet Chili Sauce
A classical Thai style Sauce - sweet-and-sour, tangy, mildly hot. For lovers of Asian Cuisine, this sauce is the perfect choice - sweet and sour with the typical fruity and flowery taste. Fresh ginger, garlic & onion, honey and an...
Content
0.148 liter
(€40.47 * / 1 liter)