Rezepte, Infos und Produkte
3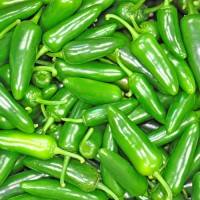 Fresh Green Jalapeno Chillies 1000g
Crunchy, freshly harvested and tasty. The jalapeño chili is one of most widely cultivated chili varieties in the world and is very popular in Mexico and the USA. Green jalapeño chillies are harvested whilst still unripe,...
Jalapeno Corer
Remove chili core and seeds in seconds. If you love grilling or stuffing chillies, make the chore of coring out the peppers easier with this handy new jalapeno corer. Just insert and twist, and the tools serrated sides separate the...
5
Apple Chipotle Sauce
Fiesta Cubana! The sauce for a good mood. Our apple-Chipotle Sauce tastes like a Caribbean street festival with loud cheerful music and colorfully dressed, dancing people. In the air there are sun rays, road dust and the smell...
Content
0.35 liter
(€14.26 * / 1 liter)
Themes