Rezepte, Infos und Produkte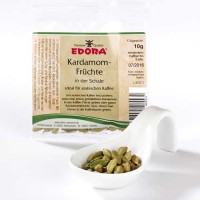 Green Cardamom Pods, whole
Cardamom is a spice typically of Arabic and Indian cuisine, where for example it is often used to make curry. Here in Germany, cardamom pods are mainly used in baking, particularly during the Christmas season. In Arabic countries,...
Content
10 Gramm
(€15.90 * / 100 Gramm)
Whole Cloves
The intense aroma of cloves make them well-suited for flavouring marinades, meat, fish, fruit, desserts and gingerbread among other things. For example, whole cloves are used as a spice in mulled wine. Ground cloves are also found in...
Content
50 Gramm
(€6.58 * / 100 Gramm)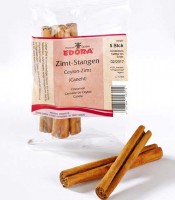 Cinnamon sticks
Ceylon cinnamon only uses the thin inner layer of bark from the tree`s branches. This rolls in on itself to form the characteristic cinnamon sticks or quills. Up to ten of these quills are pushed inside one another and then left to dry....
Content
5 Stück
(€0.46 * / 1 Stück)
Themes